Flying Santorini Dress Photoshoot Price & Rentals
You have probably been seeing photos of these amazing dresses all over online and on social media. These women look like Greek goddesses with long flying dresses. The ocean breeze lifts up their long trains into the air with the city's famous blue domes, picturesque cliffsides, and the Aegean Sea in the background.
Want to get photos like this on your next trip to Greece? It is actually more affordable than you think! Below we go over a few boutiques that rent out the flying dresses, Santorini dress photoshoot prices, and how to hire a professional photographer for epic photos. Otherwise, check out our other post that covers what to wear in Santorini.
Book a Flying Santorini Dress Photoshoot
Almost everywhere on this island is picture-perfect. Book a flying Santorini dress photoshoot with a professional photographer to get amazing vacation photos with whitewashed buildings, spectacular cliff views, and breathtaking sunsets. Ask your photographer for help picking out your flying dress, rental prices, and the best photo spots for the photoshoot.
There are multiple businesses on the island with affordable prices for these flying Santorini dresses. They offer many colors such as blue, yellow, and red which all go perfectly with the city's iconic backdrops. Here are our favorites:
Vicky's Santorini Dress Photoshoot & Rentals
Capture a classic Santorini flying dress shot in any of the three cliff-top villages (Oia, Firostefani, or Imerovigli). This photoshoot also includes the dress rental, and you can choose from a large selection of colors, styles, and sizes (XS-XXL). This photoshoot package also includes:
Dress rental is included: 6 colors and 2 styles to choose from

Receive at least 80 edited digital photos.

Up to 3 people.
Includes pickup, drop-off, and transportation.
Dimitris' Flying Dress Photoshoot & Rentals
Book a private flying dress photoshoot experience in Santorini with Dimitris and his amazing assistant. Choose from an array of stunning haute couture gowns that flow in the wind. Whether you're solo or in a couple, this photoshoot is the perfect way to capture your memories of Greece. This photoshoot includes:
High-resolution digital photos: 15 edited, and 6 professionally retouched
1 dress from their selection (any style, color, or size XS-XXL)
A personal assistant that will help make the dress fly for the photos
Oia Blue Dome Photoshoots
Toto Kuo will take you to a few secret photogenic spots, skipping over all the crowded tourist hotspots. Enjoy a flying dress photoshoot in the neighborhood of Oia, Santorini with stunning backdrops and blue dome churches. It includes:
70 -100 high resolution, edited photos
Flying dress rental
Insider knowledge of photoshoot locations that only locals know about.
Flying Dress Rental
For one of the most iconic photos, various places offer Santorini flying dress rentals, but most of them include a photoshoot with the rental. They are very long dresses that will blow lavishly with the ocean breeze. The flying dress rental prices typically range from $200 – $1,000. A damage deposit may be required by some boutiques. Rent dozens of styles from dream designers at prices that are right for you. Here are our favorites: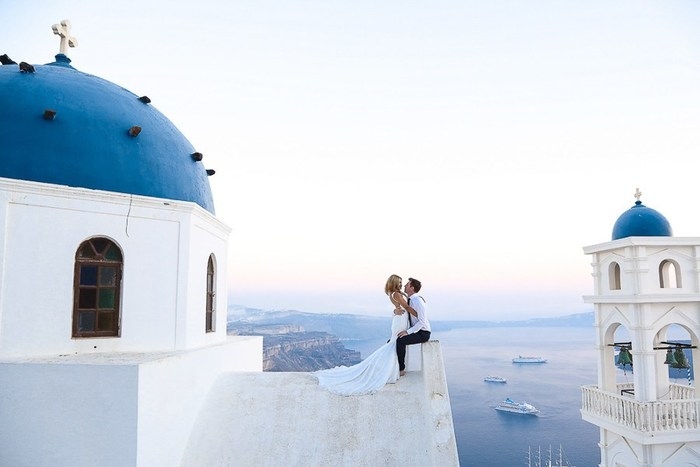 Santorini Dress Photoshoot Packages
Book a fun experience with a local professional photographer who knows all the best photo spots, when the best lighting will be, and how to beat the crowds to capture magical moments without tons of other tourists in the background. Not only will they take amazing Santorini flying dress photos, but will edit them to be beautiful photo souvenirs you'll treasure for years to come.
Check out our list of the 3 best Santorini photographers to compare portfolios, read customer reviews, check date availability, and the dress photoshoot price.
Local Lens independently selects & reviews the tours and packages we recommend on our website. If you purchase through affiliate links, we may earn a small commission at no extra cost to you.