Cappadocia Proposal Ideas: Best Places for an Epic Engagement
There's nothing quite like a Cappadocia Proposal… such a life-changing question at one of the most beautiful spots in the world. Over the past few years, we have helped capture the question for so many love birds. We are excited to share a Q&A with our photographers about Cappadocia proposal ideas, spots for engagement photos, and how to hire a proposal photographer to capture the moment!
What is the best place to propose at Cappadocia?
There are many nice spots to propose near the Cappadocia for an epic engagement. If you want to avoid crowds, early is best… but sometimes the crowd acts as a natural background and makes it easy for a photographer to hide among all the other people with professional cameras. Another plus to having more people around is that they will applaud and celebrate along with the couple the moment they hear the YES!
What is the best time for lighting and to avoid crowds?
The best time to propose is definitely early in the morning when all the hot air balloons shoot into the air. I also love surprise sunset proposals!
Where are the best Cappadocia proposal spots?
There are 3 best places to propose in Cappadocia that I highly recommend:
In the morning you can pull off a Cappadocia hot air balloon proposal since they are all up in the sky, which sets the mood for a magical moment.
Sunset with horses is also a great option.
There is a very picturesque carpet store that we can include during the photoshoot route. The photos turn out wonderful!
How do I pull off a Cappadocia hot air balloon proposal?
From start to finish, the Cappadocia hot air balloon adventure will last about 3 hours in total. The preparation takes about 30 min and honestly it is very cool to see them get it all set up. The flight itself lasts about one hour for a standard flight. The price to ride a hot air balloon ranges between $140 and $250 USD per person.
For the Cappadocia hot air balloon proposal, I would recommend pulling out the ring during the preparation and balloon inflation phase. That way the photographer can capture the moment on the ground right when you pop the question for the surprise proposal! Then you can both jump into the balloon as a newly engaged couple for a romantic ride without the photographer.
Below are the best Cappadocia hot air balloon tours that can help you pull off an EPIC proposal:
Hiring a Cappadocia Proposal Photographer
Adrenaline starts to rush the second you reach for the ring, and it's easy to get overwhelmed with emotions… so much so, that some people can't even remember their engagement moment. Hiring a photographer for your surprise proposal will allow you to capture and relive that moment again and again.
We asked our Cappadocia proposal photographer to help answer a few frequently asked questions about capturing a Cappadocia proposal. Below are their answers: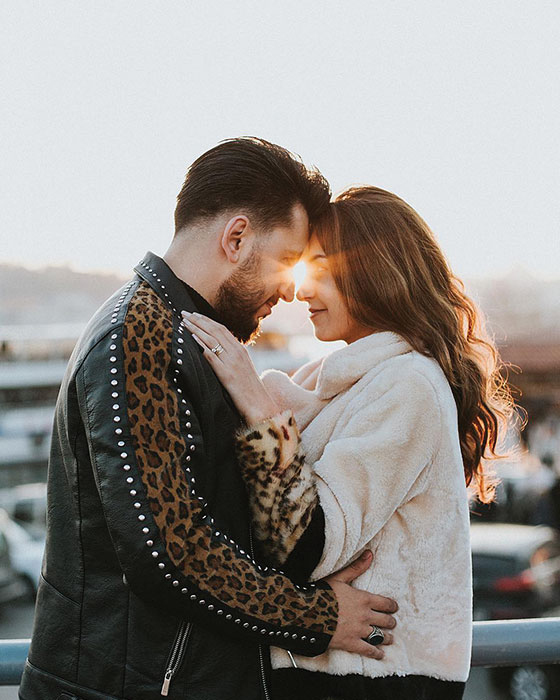 What do you think about surprise proposals at the Cappadocia?
I have helped capture dozens of surprise proposals at the Cappadocia. It's a very fun job that I like because the challenge is to capture their surprise moment and expression that will always be with them forever.
How do you coordinate the proposal time?
In my opinion, there are 2 ways to pull off a Cappadocia proposal:
The other person knows that they hired a vacation photographer
The other person doesn't know about the proposal photographer, so the proposal photographer must hide.
Case #1 is very simple. We do a normal Cappadocia photoshoot, and at the agreed spot I'll give a secret hand signal so that he/she knows it is time and that I am ready.
Case #2 is we agreed on a spot. I'll send my photo so he/she can recognize me. Then we'll discuss where he/she should stand and where the photographer's location will be.
How do you set up the meeting spot?
After deciding on the exact proposal spot, we usually discuss the details and logistics. The best way to keep track of our locations, especially if it is a surprise proposal, it to use share our live locations on WhatsApp to make sure we can find each other.
I usually ask for a photo of the couple and set an exact meeting point. We'll also discuss how we will be dressed on that day so that we recognize each other easily. After the proposal, Cappadocia offers many different spots for post-proposal photos.
Learn More About Proposal Photographers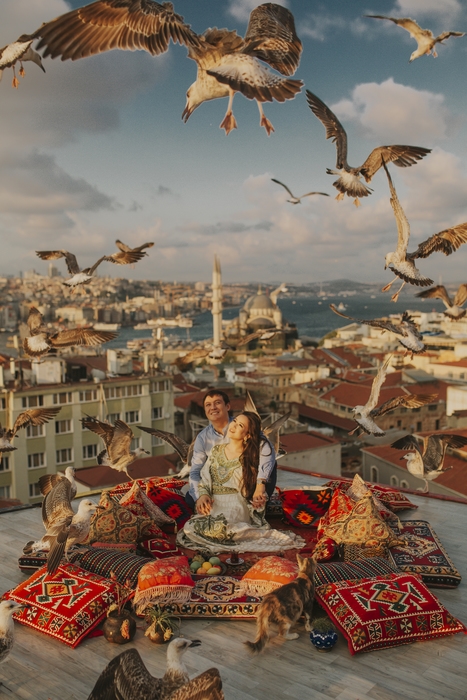 Is there a secret signal to give the proposal photographer?
As there are usually a lot of people with professional cameras, it is easy for me to blend among them. During the planning process, I ask for pictures of the couple so that I can recognize them on the day of the proposal.
One of my favorite options is the "stranger" photo. On the day of the proposal, I'll make visual contact with the one who is preparing the surprise. He or she will then walk up to me and ask if I can take a picture of them as if we do not know each other. Then I tell them, "That is a nice spot over there!"
And that is the moment of the proposal!
Are there any additional costs to be aware of?
Good news: There are no additional costs, unless you want to do the Cappadocia hot air balloon proposal!
Do you have any other general tips?
Plan to arrive with enough time so that you are not rushed. If you have to tell your soon-to-be fiancee to hurry, they might begin to suspect something is going on.
Also, don't worry about the "perfection" of the moment. This will only stress you out, when in reality you should be enjoying the entire moment.
Take your time while proposing, tell her/him why you love her/him, and wait for the answer before standing back up. Wait for people to walk away from you so that you are alone in the frame. Also, dress well and try to avoid dark colors.
How much does a Cappadocia proposal package cost?
High-resolution photos are professionally edited and delivered by email in a private online gallery within 5 business days. Choose between 3 different photo packages:
1 hour – Includes 30 digital photos
90 minutes – Includes 45 digital photos
2 hours – Includes 60 digital photos
How are the proposal photos delivered?
All photos are professionally edited and delivered in a free online private gallery where you can download your favorite photos in high-resolution jpg format. Additional files and high-quality prints from our professional partner labs are also available for purchase. You will receive an email with your gallery link within five business days, but usually sooner.